The Headliner Product News: June - August 2016 Issue 11
We announce our latest products to extend the Khoisan Tea brand Rooibos goes Matcha…
Most tea connoisseurs are familiar with Japanese Green Matcha Tea. It is a stone-ground version of the entire black tea (Camelia sinensis) plant, which is ground in its unfermented or 'green' state to be enjoyed in fine powder format.
The same is also possible with Rooibos Tea. It can also be expertly stone-ground into a finest powder to be enjoyed hot or cold. The real art of its preparation lies in whisking this Rooibos powder in hot or cold water for a strong, intense taste. It is also easy to add it directly to health shakes, smoothies or cocktails for a delicious Rooibos twist. As with all Rooibos, the Rooibos Matcha Tea is naturally caffeine free and contains antioxidants.
Our 100% organic Khoisan Rooibos Matcha Tea (single ingredient, Rooibos only) is available in 30g net tins.
Of course, we also offer an organic Japanese Green Matcha Tea tin.
The two make an appealing combo, like the Ying and Yang of Matcha teas.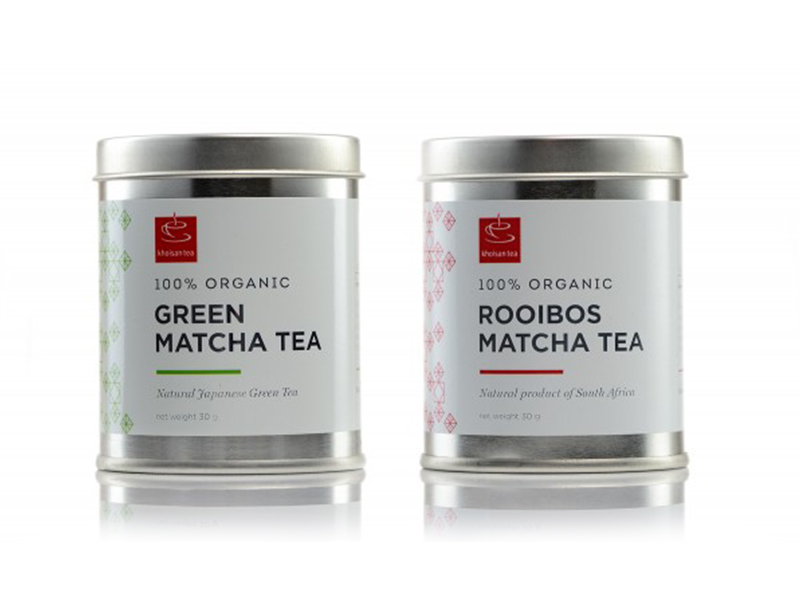 Organic Khoisan Glühwein set makes novel holiday gift
Sipping red wine by the fireplace on a cold winter's night is pure luxury.
Now, we introduce the concept of enjoying an organically-spiced Glühwein or 'mulled' wine to new audiences across the globe. While most Germans, Austrians and some Americans are already familiar with the concept of mulled wine, which is a heated and exotically spiced red or white wine, other countries are still discovering its fine taste.
We have blended some of the world's best organic spices like cinnamon, cloves, whole star anise and more, along with South African dried citrus, to make a limited edition Khoisan Tea Glühwein treat: 35g organic spice mix & 50ml organic spice extract make up our unique Khoisan Tea gift set, ideal for this year's Christmas and New Year's eve celebrations.
Each unit comes with easy-to-follow instructions.
Simply add your own favourite wine.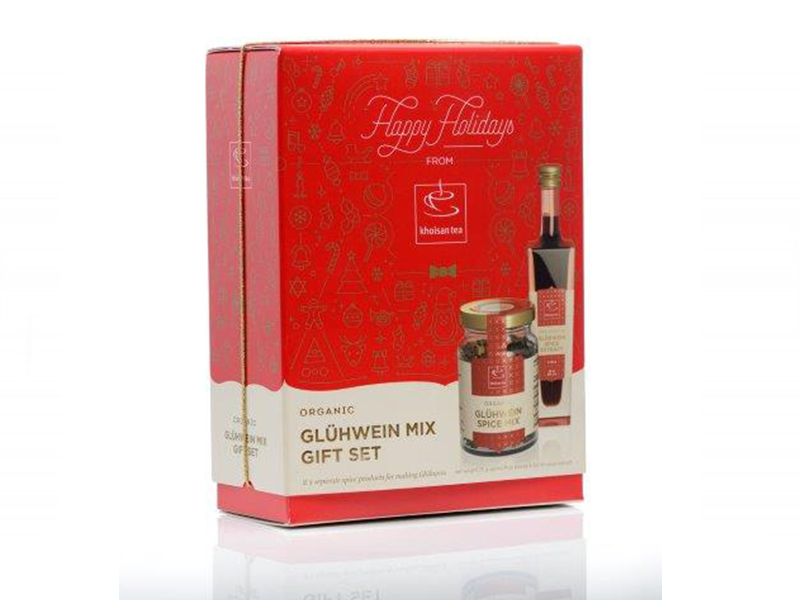 Unique organic fruit powders add sparkle to Khoisan bakery range
Organic wild blueberry and organic lingonberry fruit powders are now available under our growing brand. These sweet, tasty, ready-to-eat powders are easy to use in baked goods and desserts. They are 100% EU organic certified and also make for beautiful cake and ice cream toppings. Excellent in milkshakes, smoothies and cookies.
They are our newest additions to our organic-certified bakery range which already includes cinnamon, ginger, cardamom powders and whole cardamom seeds as well as whole star anise. Available in glass jars in Swedish/Finnish and English.
If you would like this range or any of our products in another language, contact us. We can assist.