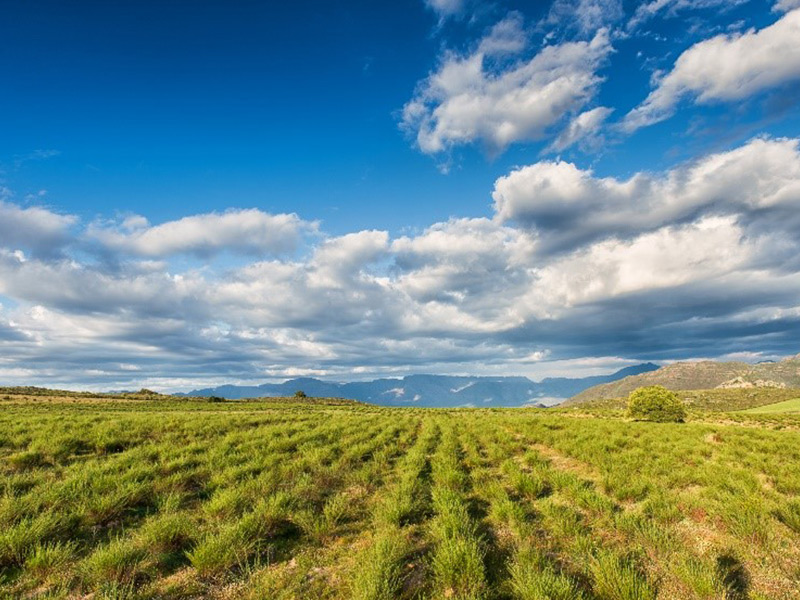 Newsletter: August - December 2018 Issue 16
Rooibos farmers are most important
Our Khoisan Gourmet team, alongside professional inspection representatives, held an Organic Information Day for Producers in August 2018 in Clanwilliam to raise awareness of organic production and organic benefits. Certification processes, organic input and farmer tips were shared for best Rooibos production practises.
Says Tobias Gress, CEO Khoisan Gourmet, "In addition to this organic event, our annual Farmer's Day in late November was also most important to us to discuss all Rooibos developments with our valued farmers. Every year, we grow our producer base and share the latest news on Rooibos markets and innovation capacities at this event. We listen to the farmers' experiences and needs so we can work together to maximise quality production. This year we discussed, inter alia, stability of quality supply, how to prevent Rooibos shortage, the use of pesticides and more. It is always a good day that usually flows into a solid relationship-building event."
2018 rings out positively, industry looks forward to 2019
Despite facing the toughest South African drought in 100 years recently, the Western Cape's Rooibos industry still managed to produce approximately 12,000 tons Rooibos this year. While this is short of previous years' production figures, Rooibos farmers thoroughly maximised their capacities given the dry, stark weather conditions of 2017 and early 2018. During this time, our Khoisan Gourmet management ensured we had quality supply of organic and non-organic Rooibos thanks to excellent relationships with farmers and good planning.
Our most interesting development this year is that we installed a top-notch milling machine to produce South Africa's first locally produced Rooibos Micro Powder. Available as a superfood ingredient for the food, beverage and cosmetics industry, our Khoisan Rooibos Micro Powder is the latest innovation of Rooibos application. It is available as red Rooibos and green (unfermented) Rooibos micro powders and has a variety of uses. Larger bulk volumes by the ton are available. Speak to us about contract packaging for it.
Our tentative outlook for 2019
• As of November 2018 and according to areal surveying and observations, we expect a small increase (ca 10%) in the total Rooibos production for 2019. It seems the capacity for 2019 may be approximately 13,000 tons.
• Rooibos is booming in Asia; Japan has increased imports from 700 tons two years ago to 2000-2500 tons in 2018.
• Europe is holding steady with its Rooibos imports but we hope the region will increase its end consumer demand for Rooibos herbal infusion ranges again. Khoisan branded organic Rooibos ranges are readily available for global supermarkets; contract packaging is another option.
• On the organic front, 100% organic certified Rooibos remains important for the European and American markets specifically. JAS Organic Rooibos remains vital as well.
• We will focus more on organic production and will add UTZ certification, inter alia, to our portfolio for this purpose.
• We remain Fairtrade certified (FLO – ID 4452) and Rainforest Alliance certified as well for our bulk Rooibos.
• We are making excellent progress with our FSSC22000 certification to be completed in 2019.
• We can offer our natural flavoured Rooibos range, KeNako, in any language required on a larger scale. Economically priced, it is the ideal supermarket range for the 20 - 30 year-old hip female target market seeking tasty, popular flavour blends of Rooibos in bright, happy packaging.
• From January/February 2019, we will have a much clearer picture of Rooibos and Honeybush quantities with pricing for the year ahead.
Our pre-packaged Rooibos options offer tasty, attractive ranges for 2019
To increase our supermarket reach globally, we are aiming to supply our Khoisan branded goods, contract packaging and/or private label capacities for international importers and distributors. Rooibos ranges in any language are possible with us (MOQs required). Write to us on info@khoisantea.com.
Exhibiting at international food expos continues to reap good results
Khoisan Gourmet was represented in Australia at the Fine Food Show in September by our International Sales Manager, Tarin Cameron.
"We visited Australia this year with the aim of marketing our KeNako Natural Rooibos brand. I took a quick photo of our booth there before visitors arrived and all was still quiet. After the doors opened, the response to our KeNako decor wall was amazing and was a real eye catcher. The wall stirred such an uproar that we landed a new distributor who is excited to be part of our new journey," she says.
For Rooibos retail sales & specials – contact
Australia/Malaysia/Singapore: sales@khoisantea.com Tarin Cameron
Norway/Denmark/Japan/China/Hungary: belmau@khoisantea.com Berit Elmau
Africa: elena.turnbull@khoisantea.com Elena Turnbull
Middle East/USA/UK: charl.rudman@khoisantea.com Charl Rudman
On-line: megan.neale@khoisantea.com Megan Neale
Vanilla innovation offers new product
Aside from our available EU Organic certified Cinnamon, Ginger, Liquorice, and Bourbon Vanilla 50ml extract range with 35% organic alcohol for baking use, we are now also offering a brand new alcohol-free Vanilla Extract specially formulated for the Middle East market.
Charl Rudman, International Sales Manager for the region who helped develop this product over the last six months says, "We have taken great strides to make this delicious new extract and it will be available with Arabic text by end of this year already. We value our reach into the Middle East and we look forward to our clients' feedback for this particular product."
Make delicious desserts, cakes, cookies, breads and drinks, like vanilla chai or plain vanilla milkshakes.
Photo courtesy: Freepik
We thank all of our clients for your valuable support throughout 2018!
We wish everyone health and happiness in 2019!
Relax with Khoisan and KeNako Rooibos in the new year
Ideal for vegans, vegetarians, athletes, yoga-enthusiasts, mothers, children, babies from six months, students, professionals, the elderly and even pets.
Enjoy naturally caffeine-free, soothing and relaxing Rooibos anywhere.